Advocating for Confectionery Industry Careers and Inspiring Opportunities

The Confectionery Foundation builds career connections with college undergraduate and graduate students from Massachusetts, New Hampshire, Illinois, Michigan, Wisconsin, Pennsylvania, Indiana, Missouri and California. 2018 marks the 7th consecutive year delivering our Next Generation career education opportunity in conjunction with our industry's largest domestic trade show.

This May, we will again introduce 100 students and faculty to careers in our industry through personalized tours of Sweets & Snacks Expo. Students studying Food Science and Food Technology, Marketing and Communications, RFID and Robotics, Package Design, Supply Chain, International Business, Chocolate and Pastry, Food Process Engineering, Finance, Mechanical engineering, Facilities Engineering, Journalism and Public Relations are encouraged to apply for this program.
Click to watch the 3 minute video of the Next Generation program.
The class of 2017 was comprised of students representing 23 colleges in 10 states. The guided tours, career fair, panel discussions, engineering discussions, networking reception and plenty of Q&A completed the day.

Thank you to the 100 volunteers from our confectionery and snack industry who, every year, share our commitment and donate their time to host, mentor and inspire our next generation guests at Sweets & Snacks Expo. Thank you for paying forward to create opportunities and make connections which strengthen our communities, industry and country.
More than 55,000 Americans work directly in the confectionery industry. Learn about the economic impact of #ThePowerofSweet!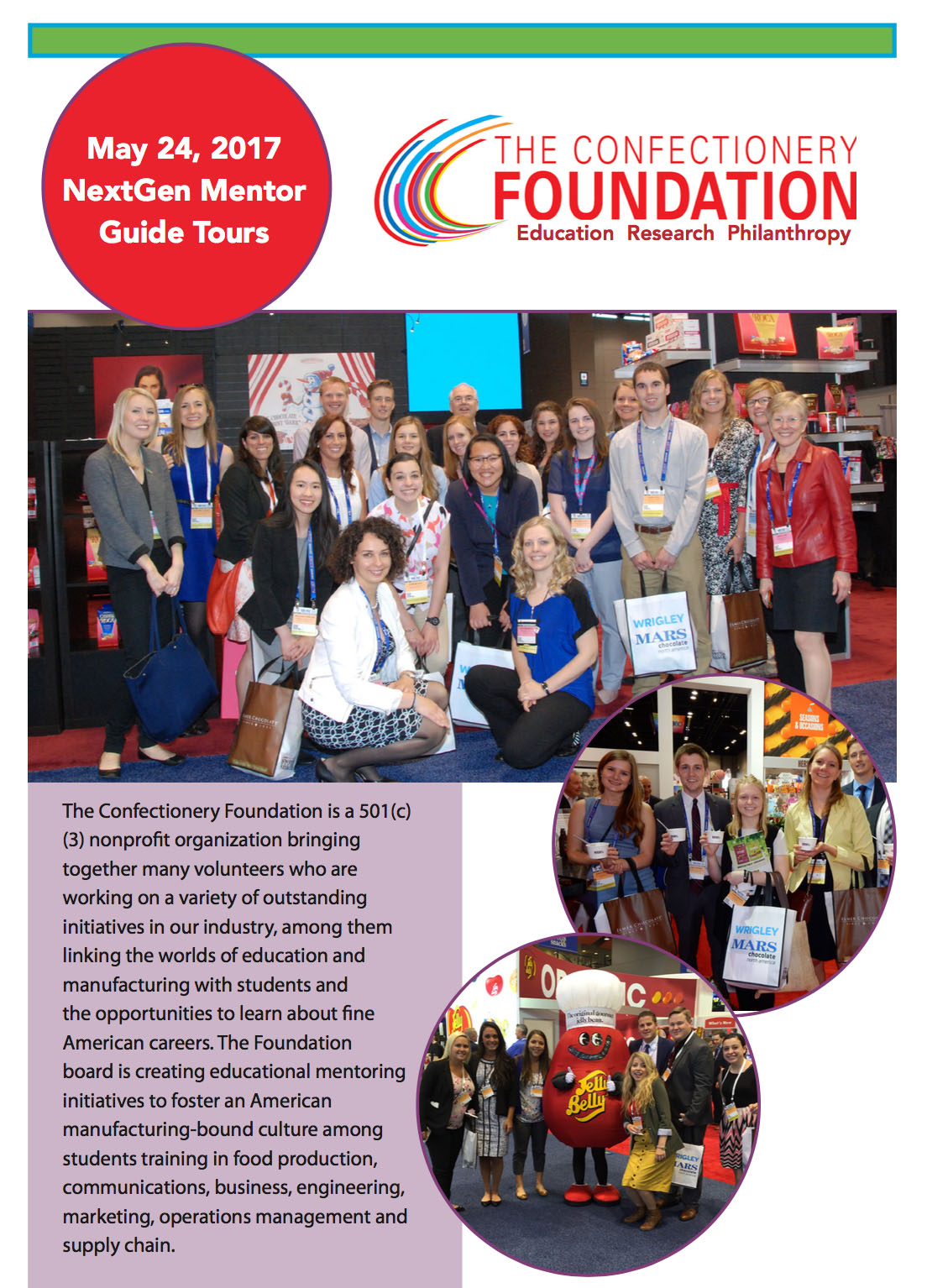 "The Confectionery Foundation created not only a great networking event but also a day for genuine professional advice from young successful men and women during and outside of the panel. The Expo itself is truly unbelievable until you see the acres of snack and sweet companies for yourself. The career fair was a great addition this year and was not the typical overwhelming sight of many students waiting the entire allotted time to learn about just one company. While I spoke to many people from amazing companies on the tour and career fair, I found the connections for the internship I had this summer during the last portion of the day.
—From a Confectionery Foundation student guest following the NextGen program
"I would like to take this opportunity to thank you very much for organizing this student event I attended at the Sweets and Snacks Expo. I found each element of the tour interesting and eye opening towards the candy industry. The panel discussion during lunch was very helpful and insightful when entering into the workforce. All the speakers were well spoken and conveyed their professional ideas clearly…I most enjoyed walking the show floor with numerous mentors and getting a behind the scenes look at their respective companies…Being able to speak to these individuals and hear about their experience in the industry was the most rewarding experience I've had so far in my food marketing career.
—From a Confectionery Foundation student guest following the NextGen program
"We learned how they are taking consumer trends and using the analytics to create new products. This was something that really intrigued me, and I could see myself pursuing in the future…All the mentors and speakers were extremely kind and provided a lot of insight throughout the day. Thank you again for allowing me to attend the show and learn so much. This show opened my eyes to different aspect of the industry I was not previously aware of, and it caused me to be even more excited about the industry I chose to study. You and your team did an amazing job presenting us with all the resources and opportunities we needed."
—From a Confectionery Foundation student guest following the NextGen program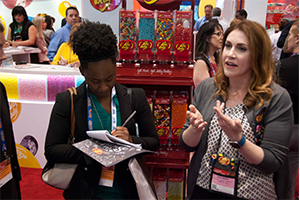 "It was such an amazing day for me and I really learned a lot and met so many wonderful people. I appreciate that as a student we were even allowed a tour and got to speak with the heads of such large companies; getting to ask questions. I never really saw that I could have a place in the confectionery business and I wasn't aware how many different sides to it there were. I've always been so fascinated but never thought of the prospects. Thank you so much for the opportunity."
—From a Confectionery Foundation student guest following the NextGen program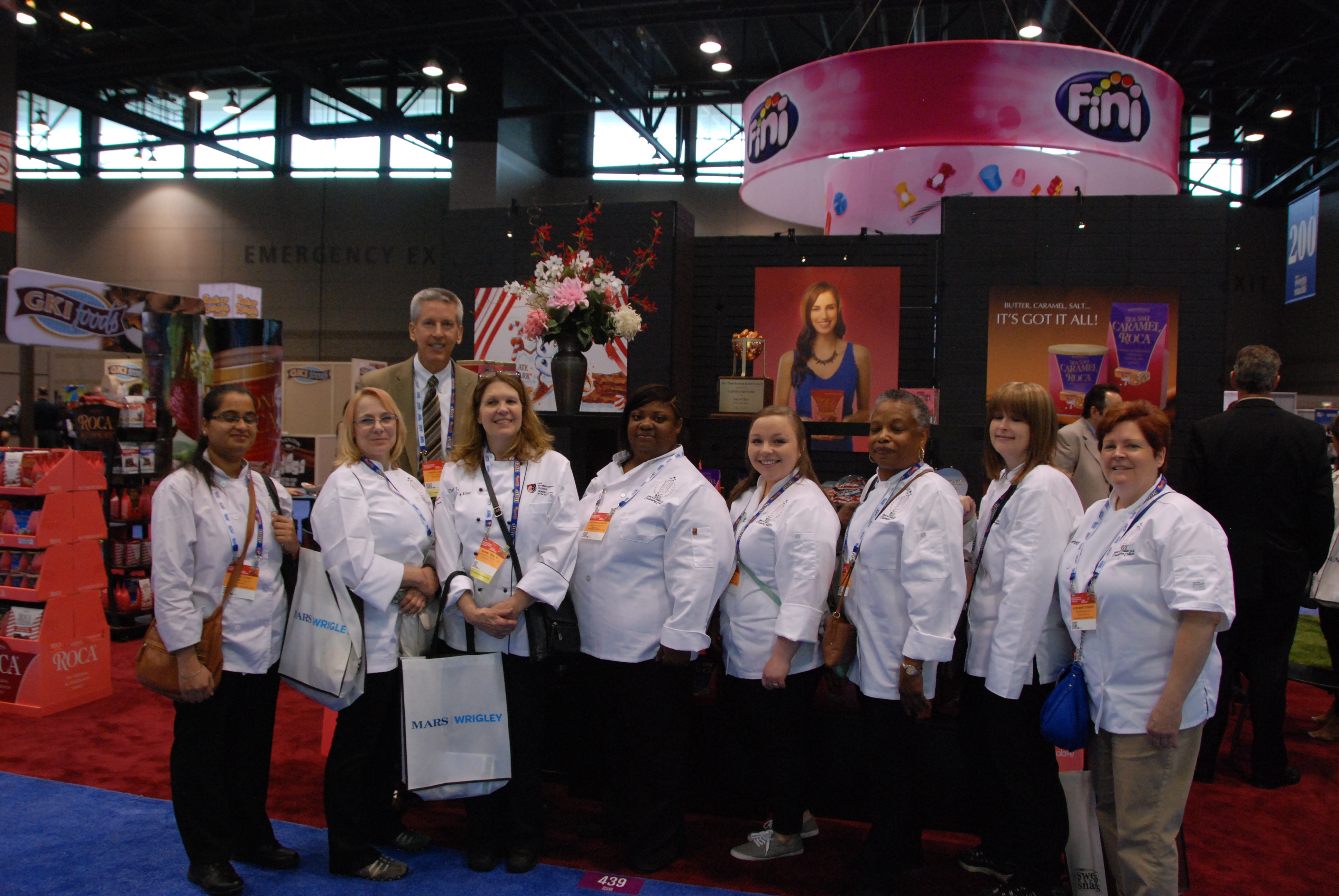 "I can not thank you enough for the opportunity you have given me at Sweets & Snacks Expo.  What a great honor to be able to be part of the work you are doing with The Confectionery Foundation.  It is exciting to see and be a part of such a successful and amazing event and learn about so many great companies."
—From a Confectionery Foundation intern
"I would like to thank you for putting on such a great program at the Sweets & Snacks Expo last week. It was such an eye opening experience to see the variety of confectionery products and the magnitude of retailers out on the trading floor. It was also a pleasure hearing about what all you do and what all goes into making the Sweets and Snacks Expo successful."
—From a Confectionery Foundation student guest following the NextGen program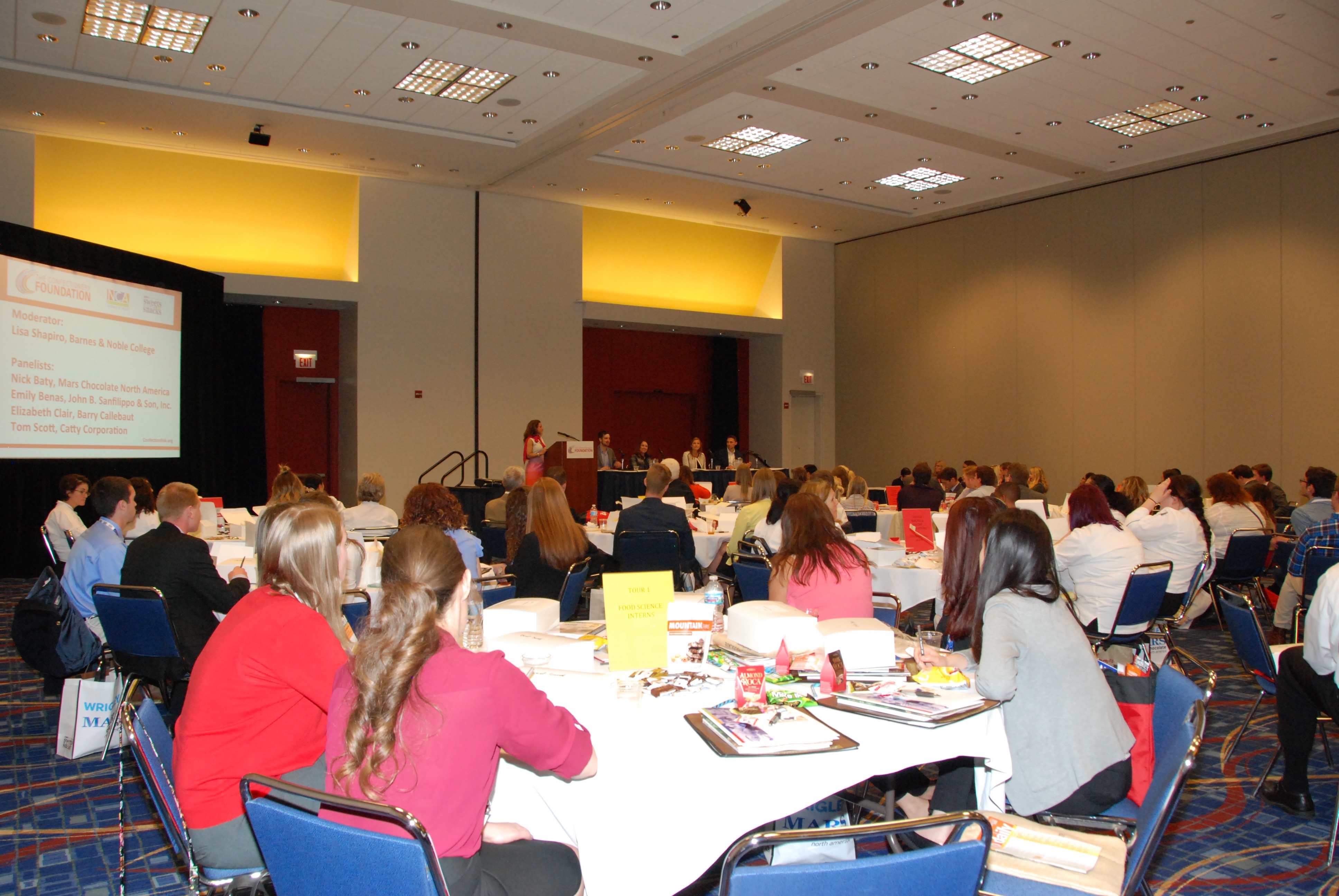 Students aged 21-30 who are enrolled in undergraduate, graduate or technical college degree programs are invited to apply during February and March for a scholarship to this NextGen career education day. Click here to learn more.
Enter 'Next Gen 2018' in the NextGen invite code field.

Learn more about Sweets & Snacks Expo

NCA members: click to learn about The Confectionery Foundation philanthropy programs.